Hima Das Biography – A Poor to Outstanding 
Strong determination and honest hard work could make anyone achieve impossible. It doesn't matter how much obstacles come in between you and your goal. You will find a way to achieve your goal.
Hima Das, the golden girl or Dhing Express achieved the impossible performance with her immense hard work. Her sensational performance surprised everyone all around the world.
Hima Das, the first Indian women athelete to win gold medal at International Level, National record holder and the golden girl of India who stunned the whole world by grabbing five international gold medals within three weeks.
In 2000, the golden girl was born in Dhing village in Assam to a poor farmer family.
Hima was an active child, she used to play football with boys in muddy fields. Earlier she was interested in football but her physical education teacher in Navodaya Vidyalaya saw her speed while playing football and advised her to take up sprinting.
Hima Das was quite popular in her native place as a social activist before becoming international sensation. She led a group of women to disassemble illegal outlets of liquor in her village. Her protest led to a case against her father but even legal trouble could not stop her.
In 2016, she participated in a inter district meet where her coach Nipon Das spotted her talent. He was amazed to see that inspite of cheap spikes, she ran like the wind and won gold in 100 as well as 200m. 
Hima Das Biography
Eventually Hima participated in state championship and won Bronze Medal in 100m without any training. Her coach Nipon Das convinced her father to send her to Guwahati for better training. She moved to Sarusajai sports complex in Guwahati.
Her coach Nipon Das took care of her accomodation expense. He also persuaded the officials to admit her into academy. Even though the state academy was for boxing and football, Das managed to become part of academy by impressing the officials with her outstanding performance.
 
Her coach advised her to run 400m, considering her ability to sprint faster near finishing line. She practiced to run slower in starting for 300m and later accelerate 100m sprint as fast as possible. 
Hima participated in 400m race in Commonwealth Games 2018 at Gold Coast. She qualified for semifinals of 400m, but unfortunately she got injured and finished sixth with timing of 51.32 seconds, which was just 1.17 seconds more than the Amantle Montsho, the Gold Medalist from Botswana. She was also part of Indian 4×400m relay team for the same event.
In July 2018, Hima won Gold Medal at the World Championship Under 20 in Finland by finishing in 51.46 seconds. She created golden history by becoming the first Indian women athelete to win gold at International event.
The golden girl qualified for final of Asian Games 2018. She not only won silver medal but also improved national score of India to 51.79 seconds. But Das couldn't qualify for 200m race due to wrong start in semifinal. She was also part of 4×400m Indian relay team and won silver in the same event.
Hima Das Biography
In September 2018, Hima Das was honoured with Arjuna Award by Government of India.
In 2018, she was appointed as first ever youth brand ambassador of UNICEF India.
Government of Assam appointment Hima Das as the sports brand ambassador of Assam.
On 2nd July 2019, the Dhing Express clocked 23.65 seconds on her way to 200m gold in Poznan Athletics Grand Pix in Poland.
On 7th July, she again won gold at Kutno Athletics meet in Poland by finishing her race in 23.97 seconds.
The golden girl did not stop here, and clocked her third 200m Gold Medal in 23.43 seconds, at Kaldno Athletics meet in Czech Republic in the same month.
International sensation Hima Das continued creating golden history and again won gold medal in 200m with race at Tabor Athletics meet Czech Republic on 17th July 2019. She did not only won another medal but improved her timing to 23.25 seconds.
The unstoppable Hima Das continued to make India proud with her incredible performance and won another Gold Medal in 400m in Nove Mesto, Czech Republic with timing of 52.09 seconds.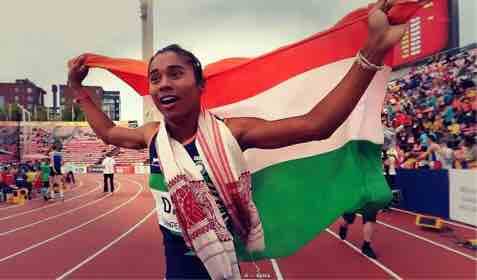 Hima Das Biography
The golden girl amazed the whole world by grabbing back to back five Gold Medals within 19 days. The same girl who couldn't afford a good pair of spikes and used to practice barefoot in fields, signed endowment deal with global shoe brand Adidas. And today she owns personalised adidas shoes with her name on right side and creating history on left one.
It's easy to give up in adverse situation. Hima Das didn't have necessary resources, she could have easily walked out but her strong will kept her going. She worked hard to make her dream come true and rest is history. Hima Das Biography is an inspiration to every young girl. She broke all the barriers and has set new benchmark in athletics by bringing nothing but gold in sprinting.
Summary
Article Name
Hima Das Biography | A Poor to Outstanding
Description
Hima Das is an Indian Athlete, who became International sensation after winning back to back 5 Gold Medals in just 3 weeks. She has become first Indian for few things. Check it out.
Author
Publisher Name
Publisher Logo