Motivational Story of Nick Vujicic
Nick Vujicic, world renowned motivational speaker, evangelist, coach, actor, entrepreneur and New York Times best selling author.
World saw him without limbs but he saw himself without limits. Not even he overcame his physical disability but also helped millions to break their mental barriers.
On 4 december 1982, Nick Vujicic was born in Melbourne, Australia. He was born with Tetra Amelia syndrome, a rare disorder which is characterized by the absence of arms and legs. Initially his mother was so terrified with the news that her child was born without arms and legs but with two small feets that she even refused to hold him. Eventually his parents accepted the reality and took it as God's plan for their child.
Vujicic's toes of one feet were fused, which were separated by an operation. This operation helped him to use his toes as fingers to operate electric wheelchair, mobile phone, computer and even to write.
Nick was a healthy child, except his physical disability. He was born without any mental impairment, in fact with strong mental ability.
Victoria State law didn't allow him to take admission in mainstream school because of his physical disability. After change in legislation, he became the first physically disabled student of Australia to study in a regular school.
Vujicic's disability attracted a number of bullies in school. Constant persecution convinced him to  think that he was a mistake and left him depressed. At the tender age of eight he felt worthless, hopeless and started considering the idea of taking his own life. When he was just ten years old, he attempted suicide by drowning himself into the bathtub. This incident made him realize how much his parents loved him and his suicide would only leave greater burden on his parents, so he changed his mind.
Nick realized that listening to other's opinion is the root cause of his problems. He refused to let people decide his worth. He committed himself to keep trying, no matter what comes in his way. His strong belief in God strengthened him to not give up and he started to feel limitless instead of considering himself helpless.
He joined Runcorn State High School, Queensland, Australia for higher education. Nick became head boy of the school and also part of the student council which was involved in humanitarian activities. He started to deliver talks in his prayer group when he was just seventeen. While pursuing his bachelor degree in commerce from Griffith University in Queensland, he worked on his speaking skills with help of a speaking coach.
Nick Vujicic realized he was not alone who faced mental problems. People across the world with no physical disabilities also suffer from the same problem. He wanted to help others to find hope and realize the importance of their life.
The best selling author received Australian young citizen award in 1990.
In 2005, Nick Vujicic founded a non profit organisation called 'Life Without Limbs' to run campaigns against bullying and spread his message of hope and faith. He was nominated for the young Australian of the year award in the same year.
In 2007, he founded a secular motivational speaking company called 'Attitude is Altitude' to bring a positive difference in the world and empower students across the globe to reach their goals.
The motivational speaker has done his own music videos and acted in a short independent movie called The Butterfly Circus and won 30 awards including the  best actor award for the same.
Nick Vujicic has traveled more than sixty countries across the globe and has addressed teenagers, adults professionals and school children as well. He has delivered over three thousand talks so far and his greatest strength of audiences was 1,10,000 people.
The best selling author has written a number of books. More than 8,00,000 copies were sold in 30 languages of his first book named 'Life without limits'.
In 2012, he married Kanae Miyahara and now he is father of four beautiful children. His estimated net worth is $500 thousand. His motivational videos and books are quite in demand and are admired worldwide.
Nick has shown the reality to the world that physical disability can't stop anyone to be limitless. All we need is hope and faith to break our mental barriers and be limitless. Who could have thought that a person without limbs can swim, surf, paint, play football and become the world's one of the most admired person.
Nick Vujicic has given a strong message to the world that if you don't find a miracle, be the one. Anyone can be happy and successful irrespective of their physical ability and appearance. Everyone is beautiful the way God has created them. We are much more than our appearance, we just need to be thankful for what we have. With faith and hope we can transform our walls into door to happiness.
Summary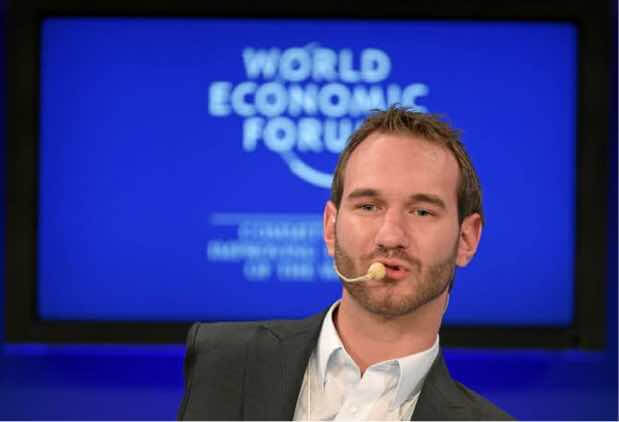 Article Name
Inspirational Story of Nick Vujicic
Description
Nick Vujicic, world renowned motivational speaker, evangelist, coach, actor, entrepreneur and New York Times best selling author.
Author
Publisher Name
Publisher Logo