When a Reel Actor becomes a Real Life Hero | Inspirational Story – Sonu Sood
It's not easy to work hard for your dreams, but only legends can spend sleepless nights and restless days to help others reach their dreams. 
It's not easy to earn money, but it's hard to spend that hard earned money on needy and earn the respect love and genuine love and gratitude of masses. This story is not just a success story but it's an inspirational tale as well, which is inspiring and telling the whole world that what is the true meaning of being a celebrity. 
Sonu Sood, the generous, kind, and successful actor, model, electrical engineer and humanitarian. He provided food and helped thousands of Indian migrants to reach their homes who were stuck in India and overseas due to pandemic Covid -19. He is the first bollywood actor who helped migrants at this scale.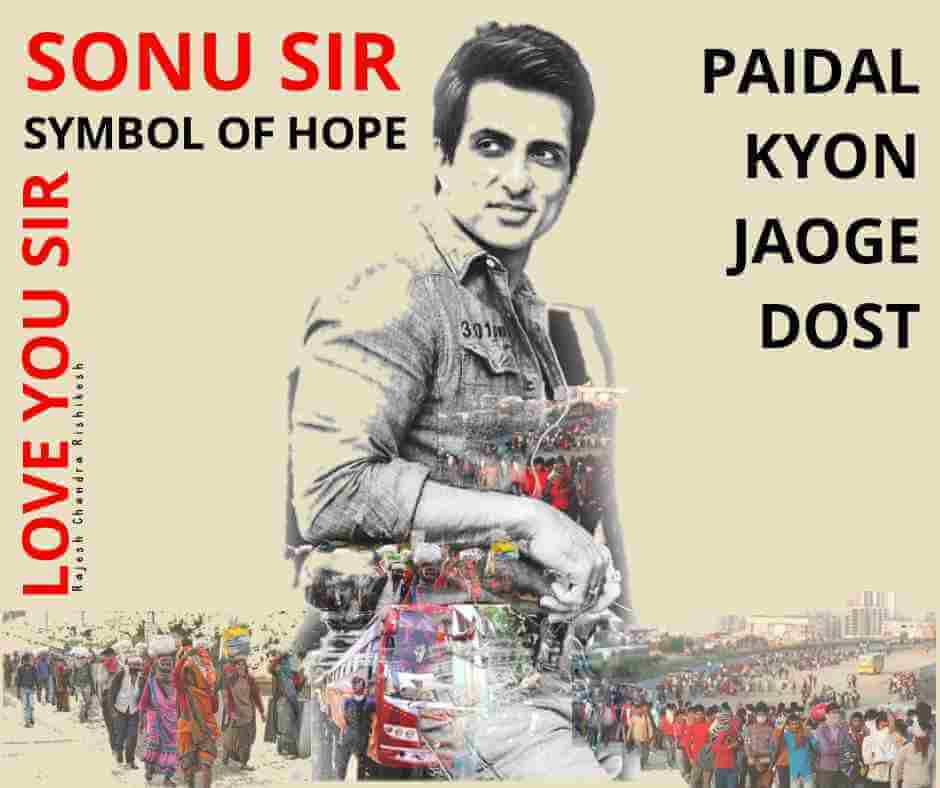 The internet sensation was born in Moga, Punjab. His father had a textile business and his mother was a professor. After his tenth board exams Sonu worked with his father in his showroom and sold fabric.
He shifted to Nagpur to pursue graduation in Electrical engineering at Yeshwantrao Chavan College of engineering. In his second year of college, he started to develop interest in modelling and acting. He saved Rs. 6000 during his graduation to shoot his first portfolio. After graduation he went to Mumbai to pursue his dream of becoming an actor. He joined a private firm to survive in Mumbai. His salary was just Rs. 500 and he lived with six boys in one room kitchen apartment. He would get up at 5 am and hit gym for two hours and then leave for work. His daily routine was to go office to office and drop off his pictures. He used to try to make small talks with people to make contacts. To initiate conversation, he would ask for a glass of water or someday he had to drink fourty glasses of water. While trying his luck in acting he continued to do modelling assignments in hope of getting break in acting. His hard work paid off, he got a role in Tamil movie called Kallazhagar and got 11,000 as signing amount. Later he did Telugu, Punjabi, Hindi movies and made big name in Bollywood and Tollywood.
According to Sonu Sood, hard work has no alternative, he has achieved everything with his immense hard work and zeal to succeed.
In 2009, The humble actor received Andhra Pradesh Nandi Award for best villain and filmfair award for the best supporting actor in Telugu.
In 2010, he got Apsara Award for best actor in negative role and IIFA award for best performance in negative role for movie 'Dabangg'.
He received SIIMA award for best actor in negative role in 2012.
In 2016, he established his own production house called "Shakti Sagar Productions" named after his father.
In 2020, he did the most heroic act with his friend Neeti Goel during pandemic by helping thousands of migrant workers to reach their home and providing them food and basic necessities on the way. Initially, he used to distribute food to workers and one day some people asked him to pack food for seven to eight days as they wanted to walk home with their young childrens and pregnant wives. The actor asked them for time of two days and started the mission of sending people home.
Sonu Sood came on the streets full of migtrants workers when everyone was staying home in the middle of pendemic. He privatized the migtrants problems over his own health. To make migrants meet their families, Sonu has kept himself at distance from his own family owning to his regular visit to migrants in buses and at railway platforms. He provided them with food, water, masks etc. & sent them to their homes by bus and even by planes with proper social distancing. He airlifted more than 160 Odisha girls, who were working in a factory in Kerala. The actor arranged special aircraft and got the Kochi and Bhubaneswar airport opened during the nationwide lockdown, after taking several permission from the state governments.
The actor with his team efforts is not limited to national borders. They have brought back 1500 indian students from Kyrgyzstan, 100 students from Russia. He is planning to Bring more Indian students from different countries across the globe.
Till now, the real life super hero and his team has sent more than 18,000 workers to their homes in every state of India. He personally took initiative and used his contacts to get permissions from state governments to open their borders for the buses. It wasn't that easy as it seems, it took series of permissions from state governments, management of buses, coordination and arrangement of personal vehicles and buses, distribution of food, proper measures for social distancing, taking thousands of calls and messages every day. Many times, Sonu Sood & his team members hardly get two hours of sleep in a day.
He is still working day and night to help migrants reach their home. He launched a toll-free number and asked to tweet whoever need help.
It's not just he spent money, he gave his heart and soul to this 'Ghar bhejo' (send home) mission. Despite of being big bollywood actor, he himself talked to thousands of migrants over phone or text. Not only migrants, he also sponsored surgery of a national player who didn't have enough money,  gifted tractor to poor farmer sisters, paid for treatment of cancer patients and many more. He has kept himself accessable to anyone who is in need, anywhere in India.
It seems like he has taken full responsibility of making life of migrants better. Recently, he has launched online job portal named 'Pravasi Rojgar' and announced three lakhs jobs for migrant labourers. For the same purpose he launched a user friendly app with same name. Job seeking migrants can get a instant call from his team by just clicking a button. He is gonna provide training to migrants and job with benefits like PF and ESI. It's impossible to put his selfless efforts and hard work in words.
Money can buy things but humbleness can touch souls and Sonu Sood with his grounded nature and will to help have touched so many lives that many migrants call him their God, named their kids after him and opened their shops on his name. He and his team is getting thousands of digital gifts, thankyou messages and calls everyday. They got appreciation from government of different states as well.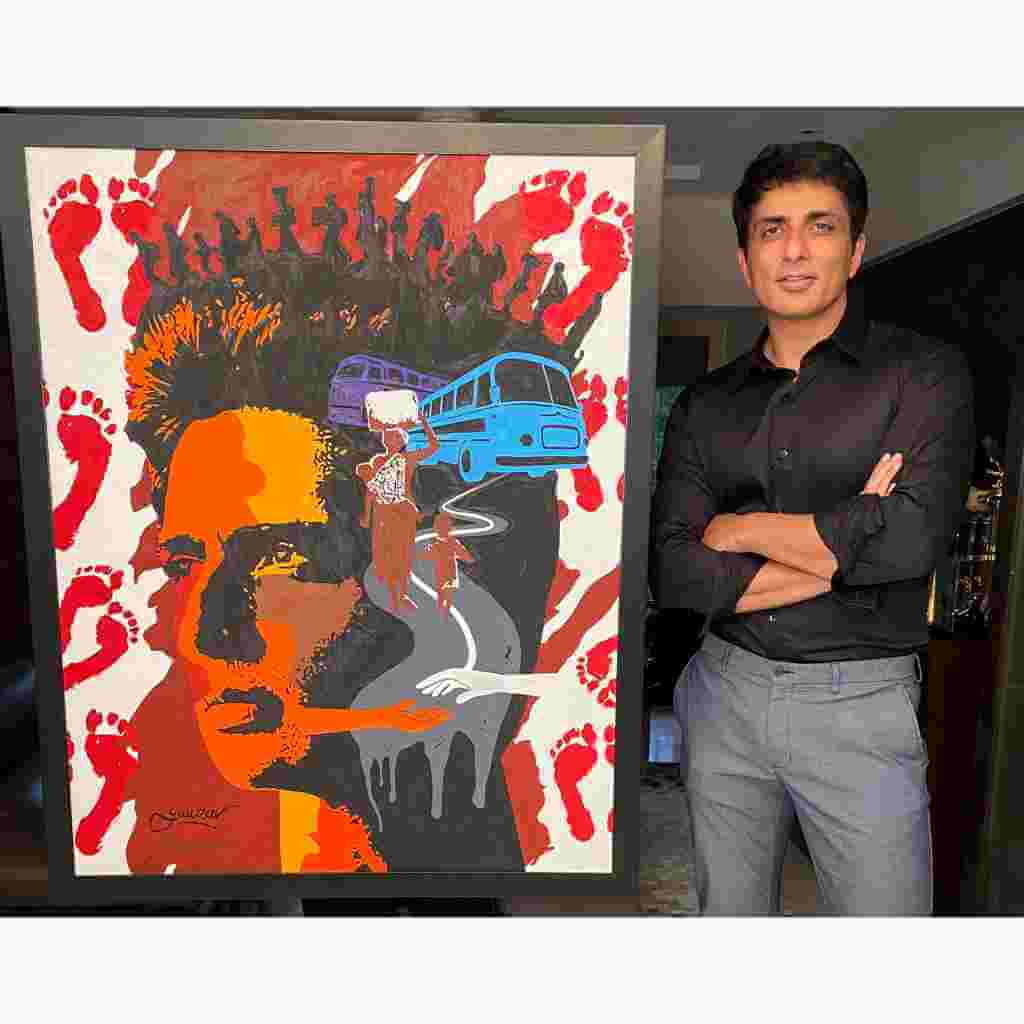 The humanitarian said that he never felt this much joy in his life. He kept himself accessable to the poor section of society and that says a lot about his humble and grounded nature. He has taught us that giving is the only way to true happiness. Being successful can bring you joy but only giving can give you peace.


Pics credit – Twitter@SonuSood