What if you are not from an IIT or IIM
Blog 98
According to a report, only 3% of total india's students are studying in IIT, IIM & NIT. It means remaining 97% of students are studying in other universities & colleges than IIT IIM and NIT, which are the premium institute of India. Now, when we talk about society or about these 97% students, many of them are having a perception that if you are not from an IIT or IIM, you wouldn't go to the top of any field. And they have many reasons in support of their point, Few of these points are –
– Students passed out from the premium institutes are hired by top companies of the world.
– You will see the most of the working professionals in top management of world's leading companies are either IITians or from IIM.
– These students get excellent facilities during their studies. They get the world's best method of teaching. As a result, they will remain number one and nobody could beat them.
Infact, we don't deny the validation of above points. It is actually a reality and we accept it. Even, to get admission in such institutions is a matter of immense pride. But we are discussing those who don't get admission in these premium institutions. The problem is when a student starts believing that now there is nothing for me. Everything is taken by IIT IIM students. I can't grow that much in my life because I am not from these premium institutes. It is not the case with all of the students of the country but still this perception is quite strong among many.
The purpose of this blog is to to break the myth today and to prove that how a person who is passed out from a normal school or college could make it big even after all diversities. We are here to prove that if even you are a school or college dropout, you could see millionaire dreams and achieve it with your efforts. To prove our side, we are going to present 3 examples below. These 3 personalities have proved that if you are not from IIT or IIM you could make it big even after. Let's have a look.
1. Ritesh Agarwal –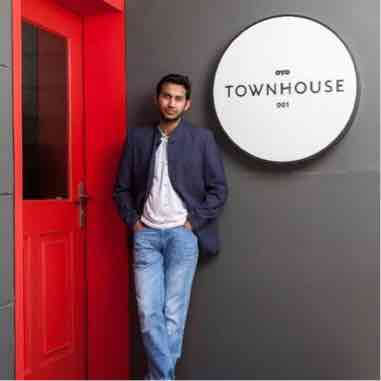 In general, many people may not aware about this name but if you are a travel enthusiastic you must be aware about oyo rooms, which is one of the fastest growing company worldwide. Ritesh Agarwal established oyo in 2013. As of June 2019, oyo has become world's third largest hotel chain by room count. Oyo is having its presence in more than 800 cities with 23000 hotels, 850000 rooms and 46000 vacation homes worldwide. The company worth is $1.5 billion and you would be amazed to know his studies. Not to talk of a passout from IIT or IIM, Mr. Agarwal is not even a college pass out. He is a college dropout from Indian School of Business and Finance but responsible for such a rapidly growing company.
If big success had linked to only IIT or IIM passout guys, then Ritesh and OYO name wouldn't have been regular in business newspaper. It is proving those guys wrong who used to say that you can't get that business mind which IIT or IIM pass out could get.
2. Baba Ramdev –
Swami Ramdev is a quite popular name today. A man who started journey from yoga guru to Patanjali Ayurveda Limited of 8135 crore rupees of revenue. According to few investment companies, patanjali is the fastest growing FMCG company in India. It was listed 13th in the list of India's most trusted brands and ranks first in FMCG category. Although, Swami Ramdev doesn't share a single penny of overall profit (as he claimed many times) but it is considered that the company growth is only because of his vision, dedication and guidance. Experts say that without Swami Ramdev this company couldn't have grown that much in this small span of time.
Now, not to talk of passing out from IIT or IIM Swami Ramdev even didn't go to any college. Infact, he got his education from gurukul. Now, that maybe another topic of discussion that whether gurukul education is more effective than any IIT or IIM. Main factor which worked in the success of Swami Ramdev is life of adhyatma and anyone could get such a life from self commitment and control in his life, no matter which sort of life are you living right now. If a common man from a poor farmer family could be the reason for such a big company and without any higher education then anyone from any background could achieve such a height.
3. Kailash Katkar –
A person who born in a small village of Maharashtra. He used to repair calculator in his initial days of working. After that, he established a company in 1993. Later, which became first Indian company to offer R & D in IT solutions. This company is having more than 700 crore valuation today. There are so many milestones achieved by this company, which is having presence in 60 countries. The founder of this company Mr. Kailash Katkar is a school dropout, who even couldn't reach to 12th grade. Many employees from premium institute works in this company today.
Now, we could wonder that what motivated a calculator repair man to establish a company & run it successfully. If he had thought that he isn't educated much so he couldn't achieve big things in his life, that he is of no use now. Then, he would end up doing small job work only. He won't have reached to the place where he is today.
Concluding Part –
We presented only 3 examples, there are many more examples available in this world, which prove that what if you are not from any premium institute of this world, still you have lot more scope of doing big, very big in your life. You could become a world leader in any area of working provided you unlock your mind with any technique. When your mind is unlock, you become more passionate, hard working and visionary. These factors altogether lead you to a big success.
Imagine, what if every 2nd person starts thinking in such a way . It's like a person who is making puncture in tyre starts thinking about having his own company of cycles, which manufacture next-generation cycles. Cobbler sitting on the roadside starts thinking about having a big shoe house on his name. A tailor starts imagining his garments business worldwide. Thinking is important because the base of every big success is just thinking. It could only happen when the above idea goes to every single person in this world, not only in the form of this blog but through anyway, through any source but the feeling of degrading ourself has to be eradicated from our society.